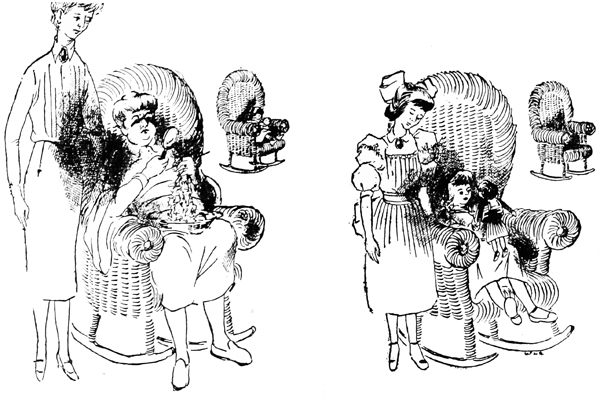 No, no, said Miss Etta, putting three loops and a scallop to centre front, no no no, said Miss Etta, crossing behind and slipping two, no no, don't tell me she didm't mean it. Don't try to tell me she didn't mean it, because I know she did, and she began the second row.
Of course, a person can always be mistaken, murmured Miss Grace.
Oh, no, said Miss Etta, putting three scallops and a loop to centre back, oh no oh no, said Miss Etta crossing in front and skipping two, no no, don't try to tell me it was a mistake when she said it to my face, and on they would go, the two old ladies, rocking and creaking and making their own music while the flies buzzed and the clock ticked and the weeds grew in the places no one could get at them.
No, no don't tell me she didn't say it…
Perhaps you were mistaken…
Don't tell me I'm mistaken…
Likely she didn't mean it…
Don't tell me she didn't mean it when I know her through and through…
Sometimes to distract her sister, to break up the rhythm of their conversation, Miss Grace would get up and start moving about the room tidying this and that, setting the snakeplant straight, laying the tea things out on the table. Biscuits for tea, she would say, warmed over, the last of the gooseberry jam, or if it were spring she might go to the window and raise it a little to look over the pansy bed. Such darlings they are this year, their little turned-up faces, just come and look, just have a glimpse of them.
Etta wouldn't come, of course, because the weight of herself was too immense a thing to be moved about lightly to please Grace. Not enough rain this season, she would say, mind the draft on your shoulders. No no she couldn't come to the window for such a thing as that, but it gave Grace the illusion of her immobile counterpart sharing her life to speak in this manner and so she never gave up saying things like come and look, and you should have been there, and when we go up to the attic again—their little game—and wherever Grace went she carried a part of Etta. More exactly it was as if she carried a basket in which she put such things as might be of use or interest to her, bringing them to empty out with the things from the market, while Etta sat at home in her wicker chair, crocheting, crocheting forever at her fancy work, which was so delicate that at times she had to take her big magnifying glass that she kept in the folds of her lap to know where she was at all in the intricate pattern she was making, hooking, looping, hooking the livelong day. A pillow-cover for Jeanie, a tidy for Alice, a runner for the minister's wife, into each of which she wove every imagined spite and long-forgotten misunderstanding and complicated disagreement that came to her mind, talking aloud at intervals to herself so that long before the tidy had reached the proportions of a recognizable shape, Grace knew for whom it was destined and, as if sensing the infinite spite these things were made with, as often as not forgot to give them to their victims, laying them starched and tissue-papered in the bottom of the chest in the front hall where they would stay until enough months had gone by and it was summer and she could no longer remember whom they were intended for. And to ask would be not so much to admit her negligence as to cause Etta pain, so she would have to take them to the Charity Bazaar where as likely as not Ruth bought the antimacassar destined for Georgina and gave it to Annie for her daughter-in-law's wedding anniversary. In this way Mary Howard, living in the barracks with her engineer husband, was the final recipient of Etta's scorn and disapproval of her first of kin, and Mary Howard receiving it along with the plastic cups she wanted and the baby bottle heater, would put it for a second on her head and drawl at her husband, wellll mistah, you're so snippy about my hats how d'ya like this one for a change? And he, tired as he was from his training course, and running the second-hand washing machine in the evenings, would see for a second the Mary Howard of the so short and so long ago, but being tired he would forget to put the smile on his face which meant that he saw or even appreciated the little extra minute of energy it took to make the joke, and Mary Howard would fling it into a corner stamping her foot and yelling, well all right then mistah sourface always with your nose in a book I hope you get to be General Pershing and I hope I'm dead! and this would wake the baby, and the whole round so tenuously in check would begin over again, penetrating the walls of the thin apartment and reacting chain wise through the barracks, so the little carefully patterned grudge or spite of Etta would have made itself purposeful after all, only so far away that one could believe it never happened.
Want to keep reading?
Subscribe and save 33%.
Subscribe Now
Already a subscriber? Sign in below.